Heal Your Life Training will help you Learn How to Assist Others in Their Growth…

While Enhancing Your Own Personal Growth and Adding More Light and Love to Our Planet!
Spend the most incredible week of your life with an amazing group of people all committed to bringing positive changes to the world! Our small group sizes provide an excellent environment for learning.
Heal Your Life®
Workshop Leader Training
class …
Workshop Leader Certification Course
with the philosophy of Louise Hay
                            Please CLICK HERE  for other courses worldwide.
 Listen to one of our informational mp3s
2013 trainings led by Patricia and Rick
April 27 – May 4: Orlando, FL
July 13 – 20: Birmingham, UK – www.dialogues.co.uk for details
Sept. 14 – 21: San Diego, CA
This fantastic in-depth and full participation training in the methods of Louise Hay gives you all the materials and skills you'll need for leading workshops: Affirmations ~ Visualizations ~ Inner Child Work ~ Meditation
You receive an intensive experience for personal growth – plus the following:
Full materials for leading your own 10 week Heal Your Life® group (script, handouts, music CDs)
Full materials for leading your own Love Yourself, Heal Your Life® two day workshop (script, handouts, music CDs, flyer)
How to "mix and match" the materials to lead up to 14 different workshops!
Marketing guides and information for your courses
Training for leading short workshops: inner child, affirmations, meditation, visualization, etc.
Handouts and CDs for the workshops
In-depth personal development work and workshop leader training
Group teleconferences and email follow-up after the course
Certificate of Training
All hotel accommodations (double occupancy) at Staybridge Suites (Orlando) or the Bahia Hotel, San Diego. All breakfasts, lunches and 2 dinners included. (Single occ is extra.)
You receive ALL of the above, including the lodging and meals for what other courses charge just for a course. At the completion of the training course, we regularly are rated a 10++ on a scale of 1 – 10. Our training FAR exceeds expectations.
Requirements for Participation:
Although there are no formal requirements for a background in counseling or leading groups, you are expected to be very familiar with the ideas in the books of Louise Hay. You are also expected to be using them in your own life with positive results and have a strong desire to share these ideas with others.
Our Heal Your Life Workshop Leader Training Program
will equip you with everything else you need to
successfully lead your own workshops.
We encourage you to register early as our trainings often have wait5ing waiting lists. Sign up in the boxes on the right for more information, including the details of our payment plan.
We encourage you to participate in a Heal Your Life® workshop or group prior to attending this training or have a few sessions with one of our  Heal Your Life® coaches. Go to:
www.healyourlifeworkshops.com and click on the About Us tab for a dropdown menu. This website also has many HYL events listed, so be sure to visit!
Required Reading Prior to Training:
You Can Heal Your Life by Louise Hay
Love Yourself, Heal Your Life workbook by Louise Hay (also known as The Companion Book in the gift edition.)
Ordering From the Cosmic Kitchen by Patricia Crane, Ph.D. (sent to you when you register for the course)
 Recommended Reading:
 The Power is Within You by Louise Hay and any other books by her
Money, and the Law of Attraction by Esther and Jerry Hicks
Creative Visualization by Shakti Gawain
 The investment for your new or expanded career is $4,095 for the 2013 Orlando training and $4,295 for the San Diego one. However, if you have attended an I Can Do It conference or belong to the Hay House Wisdom Community, you save $400 on your balance. Remember, this INCLUDES your hotel room (double occupancy), most meals, all your training materials and follow-up afterwards. The deposit for either Orlando or San Diego is $699. You can also ask about our payment plan. Click here for the application form.
April 27 – May 4: Orlando, FL    Click here to make your deposit.
Sept. 14 – 21: San Diego, CA    Click here to make your deposit. (Early registration discount of $400 by June 15th. Cannot be combined with other discounts.)
Who attends the training? Participants are from all walks of live, from many different occupations, and from many different countries. But they all have one thing in common – Louise's work has transformed their lives and they want to belp others do the same.
About the Course Leaders:
Patricia Crane holds a Ph.D. in Social Psychology, has an extensive background in spiritual studies, and is a student of A Course in Miracles. For over 20 years she has been developing and leading workshops that inspire all attendees. She has been privileged to study with many of today's leading metaphysical teachers including Louise Hay, Deepak Chopra and Marianne Williamson. In 1988, Louise Hay personally chose her to lead the Love Yourself, Heal Your Life workshop nationally and internationally. This workshop evolved into a highly successful international program training more than 2,200 teachers over the past seventeen years. This training program was approved by Louise in 1995.
Rick Nichols is an international speaker with a passion for philosophy, poetry and life. As an open-hearted adventurer and spiritual seeker, he believes that love, laughter and beauty are the most powerful forces in nature. With a strong sense of humor, he draws on the charm and wisdom found in stories, fairy tales and poetry to enthrall and inspire his audiences.
Note: Due to our new licensing agreement with Hay House, Inc., we now require liability insurance and a yearly $99 licensing fee. This fee is 50% off for your first year. For the US and Canada, we have  special comprehensive liability policy. Contact us regarding insurance information for other countries.
Sign up on the right sidebar for more information about the training and our next informational teleconference where we answer all your questions.To transform your life and learn how to help others transform theirs, you must attend this course!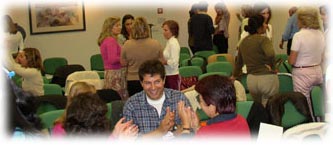 For 2013 Trainings offered by other authorized Heal Your Life® trainers >>>LOOK HERE
Important note: The trainers listed on this site are the ONLY ones licensed by Hay House, Inc. to offer this training